This 27-year-old S'porean revived her dad's car workshop when it was on brink of bankruptcy
During the 1970s, Edmund Tan spent countless hours tinkering with his grandfather's racing cars, which ignited his interest in the field.
Starting out as a simple tyre fitter over 30 years ago, Edmund gradually climbed the ranks to become the country manager in Indonesia and a factory general manager supplying OEM (original equipment manufacturer) wheels to Toyota.
With his extensive experience and technical knowledge, he founded Pitstop Tyres in 2009, drawing inspiration from his time overseeing F1 race tracks in Indonesia.
Since the end of 2022, his 27-year-old daughter Cordillia has taken the reins of the business as the second-generation owner and is determined to rejuvenate and scale it to new heights.
Transitioning from VC to automotive industry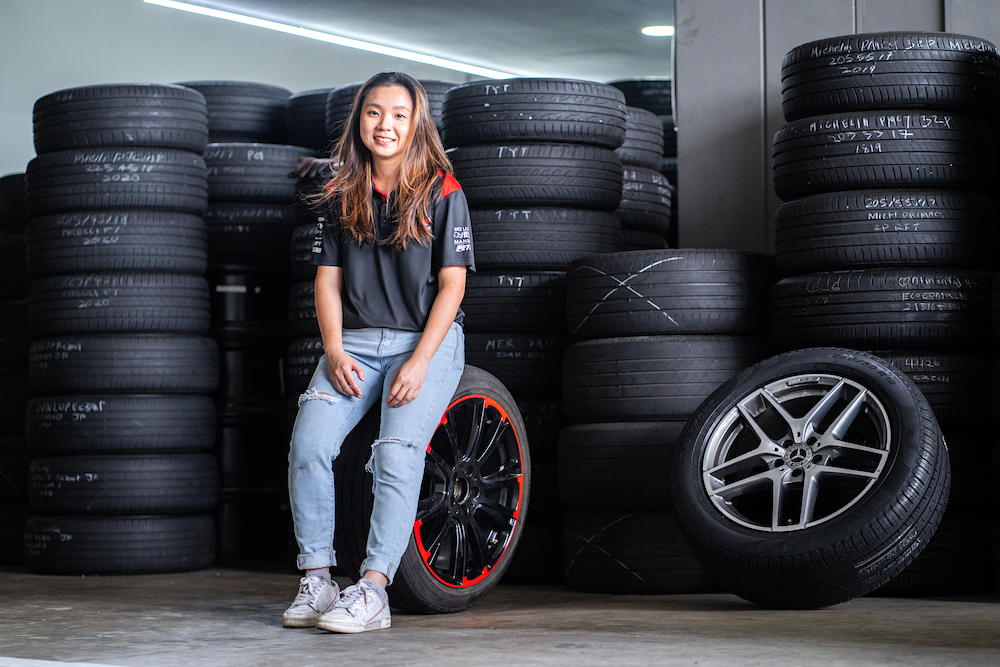 Cordillia graduated with a Bachelor of Arts & Social Sciences with Honours (Distinction) from the National University of Singapore (NUS).
In her university days, she also participated in the NUS Overseas Colleges Entrepreneurship Programme in Shanghai, expanding her entrepreneurial acumen.
While Cordillia's early exposure to the automotive industry came from helping her father during her secondary school years, her career primarily revolved around startups and venture capital accelerator firms.
Her expertise lies in growing early-stage startups, accelerating their growth, and preparing them for successful fundraising.
However, the turning point in Cordillia's journey occured when Pitstop Tyres faced the harsh realities of the COVID-19 pandemic.
COVID-19 destroyed the business to the point it was on the brink of bankruptcy. The company was in dire need of rejuvenation and at the same time, I started to feel unfulfilled at my accelerator job. I saw and grew countless startups, but I felt like I was stuck in the same place doing the same things over and over again. Hence, I decided to take the leap of faith and join [my father]'s company.

– Cordillia Tan, second-generation owner of Pitstop Tyres
At its core, Pitstop Tyres is a one-stop shop for all car maintenance needs. The company offers a comprehensive range of services, including tyre and rim fitment, engine oil changes, brake pad replacements, suspension repairs, battery changes, and more.
Pitstop Tyres has also recently expanded its services to include rim repair and resprays, providing customers with a complete solution for maintaining their vehicles.
Her father was knee-deep in debt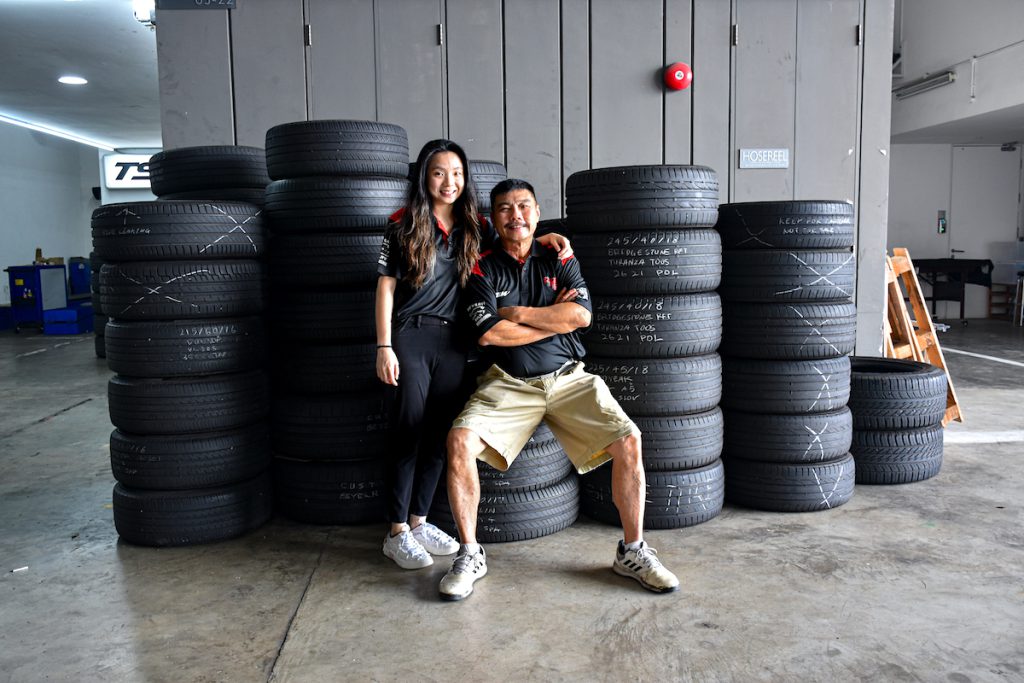 Cordillia first learnt about her father's financial struggles through a series of unexpected encounters.
"Pink letters" from banks, utility providers, telecom companies, and government agencies started flooding in, revealing the extent of the debt, which amounted to an overwhelming S$400,000.
As I continued working in the business, I would get interesting surprises every week — from unpaid suppliers, to outstanding rent and unfulfilled customer orders.

– Cordillia Tan, second-generation owner of Pitstop Tyres
Upon discovering the magnitude of her father's debt, Cordillia experienced a range of emotions. The initial shock was quickly followed by anger, directed at her father for keeping the situation hidden.
The immense stress of the situation was undeniable, but as Cordillia began to grasp the gravity of the COVID-19 pandemic's impact on her father's business, her anger transformed into understanding and empathy. Determined to turn things around, Cordillia set her sights on rebuilding and reviving Pitstop Tyres.
"At that time, all I could think about was that I needed to work really hard and really smart to rebuild and revive the business," she said.
She understood that time was of the essence. With the business's runway reduced to a single day, she immediately engaged with the company's creditors to negotiate instalment plans that would provide breathing room and allow her to generate revenue.
Fuelled by a desire to grow the business, Cordillia embarked on an intensive growth hacking strategy. Recognising the significance of a strong online presence in the modern B2C landscape, she poured her energy into social media marketing, resulting in viral content that boosted the brand's reach significantly.
TikTok was the perfect choice because I literally had zero marketing budget. It's a free platform to go viral without having a huge following. I don't think I'd be able to get a viewership of one million from any other platform without paying a huge premium.

… Many people have come [to our shop] after seeing our videos online, and interestingly, some of our old customers who couldn't find us after we moved (my dad didn't know how to update our Google address) have also come back. All in all, social media has become an integral part of our business strategy to showcase ourselves and to attract new customers.

– Cordillia Tan, second-generation owner of Pitstop Tyres
So far, Cordillia has managed to repay approximately one-third of the company's debt, leveraging a combination of business profits and personal savings.
What significantly helped was Cordillia's decision to forgo drawing a salary for almost two years, relying instead on a modest monthly allowance of up to S$200 whenever necessary. This decision was driven by her belief that the company's survival and growth were of utmost importance, surpassing her personal financial needs.
By reinvesting potential salary funds into the business, Cordillia aimed to fuel further growth and development. Although her personal finances took a hit, she remained resolute in her commitment to Pitstop Tyres.
Taking over her dad's business
When Cordillia first took over the business, she faced doubts and criticism from others who questioned her decision to leave the venture capital industry for a small tyre shop.
"Someone even told me that I've ruined my future and wasted my time going to university," she recounted, adding that most people are instead very supportive of her decision.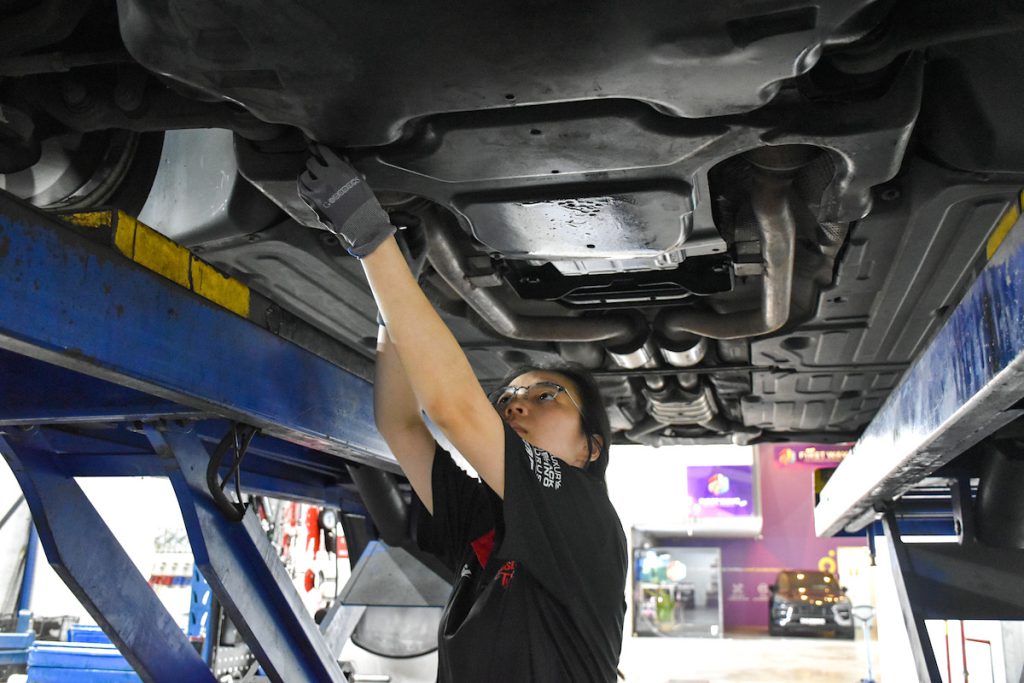 Cordillia shared that she faced a steep learning curve at the start. Coming from a linguistics background, the intricacies of car mechanisms seemed foreign to her. However, she knew she had to quickly acquire the necessary knowledge and skills to succeed in the car repair industry.
She took proactive steps by enrolling in various automotive-related short courses, such as Engine, Hybrid, Transmission, and Electrical Sensors. Cordillia understood that learning in the automotive industry is a "never-ending journey", as new models, technologies, and tools are constantly being introduced.
Furthermore, the increasing popularity of electric vehicles (EVs) presents a new set of challenges and opportunities for Pitstop Tyres. Recognising the importance of adapting to this evolving market, Cordillia took the initiative to enhance her understanding of EVs.
She attended the National Electric Vehicle Specialist Safety (NESS) course, jointly run by the Land Transport Authority and Ngee Ann Polytechnic, to gain insights into the future of the EV landscape and evaluate the feasibility of incorporating EV services into her business.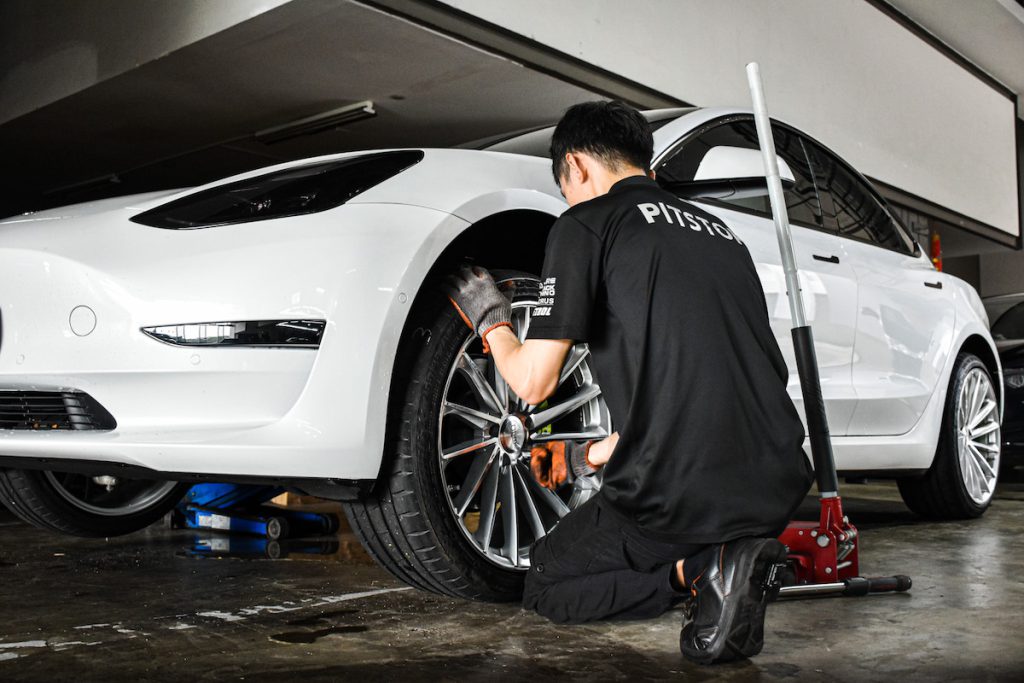 Currently, Pitstop Tyres focuses on its strengths and specialises in EV-approved rims. These rims are specifically designed to withstand the higher torque output of EVs compared to internal combustion engine (ICE) cars.
Cordillia also shared other unique obstacles that Pitstop Tyres encountered throughout its growth.
Initially, the biggest challenge was the lack of business itself. The workshop remained empty, and the shop's location on the third floor of an industrial building in a relatively remote area didn't help either.
However, as business started to pick up, another challenge emerged – manpower and staffing. The limited number of employees led to poor customer service and long waiting times.
As such, Cordillia hopes to see more Singaporeans interested in joining the industry to alleviate this issue. Currently, she still assists with tyre fitment, but this poses a dilemma as she can't simultaneously handle online inquiries.
It's a chicken-and-egg problem because you need business to hire more staff, but you also need more staff to get more business. At the moment, revenue is still up and down, so it's still a work in progress to figure out the right balance between good operations and [managing] costs.

– Cordillia Tan, second-generation owner of Pitstop Tyres
Additionally, taking over a business in a male-dominated industry brought its own set of challenges for Cordillia. One of the main obstacles she faced was the lack of natural physical strength. Some tasks, like shifting heavy tyres or opening stubborn bolts and nuts, required more strength than she possessed.
While occasional harmless stereotyping occurred, Cordillia considers herself fortunate not to have encountered significant gender-related biases in Singapore as the industry is gradually becoming more inclusive.
Embracing innovation in a changing market
Furthermore, when Cordillia took over, the pandemic was at its peak.
COVID-19 nearly decimated the business. Although we're very fortunate to have come out of the pandemic alive, there was barely any business when I took over. It might've been the most stressful period of my life, but on the other hand, it was [also] a good opportunity to take a step back and really think about how to renew and refresh the business.

The pandemic showed me that many businesses, including my own, had archaic and unsustainable practices that really had to go.

– Cordillia Tan, second-generation owner of Pitstop Tyres
To rejuvenate the business, Cordillia focused on improving workflow processes and expanding growth mechanisms. She began by implementing standard operating procedures, introducing new job sheets, and enhancing customer relationship management (CRM) systems. These changes aimed to optimise the overall workflow, reduce errors, and ensure a seamless experience for both customers and employees.
She also explored innovative approaches to drive growth for Pitstop Tyres. Recognising the power of digital marketing, she experimented with various content mediums and social media platforms to attract new customers beyond traditional word-of-mouth referrals.
Cordillia adopted a data-driven approach, meticulously tracking customer data and implementing A/B testing strategies to continuously iterate and optimise conversion rates. By embracing these modern marketing techniques, Pitstop Tyres was able to reach a broader audience and stay ahead of the competition.
Implementing changes and introducing new processes, however, was not without its challenges. Resistance to change is a common hurdle in any business, and Pitstop Tyres was no exception.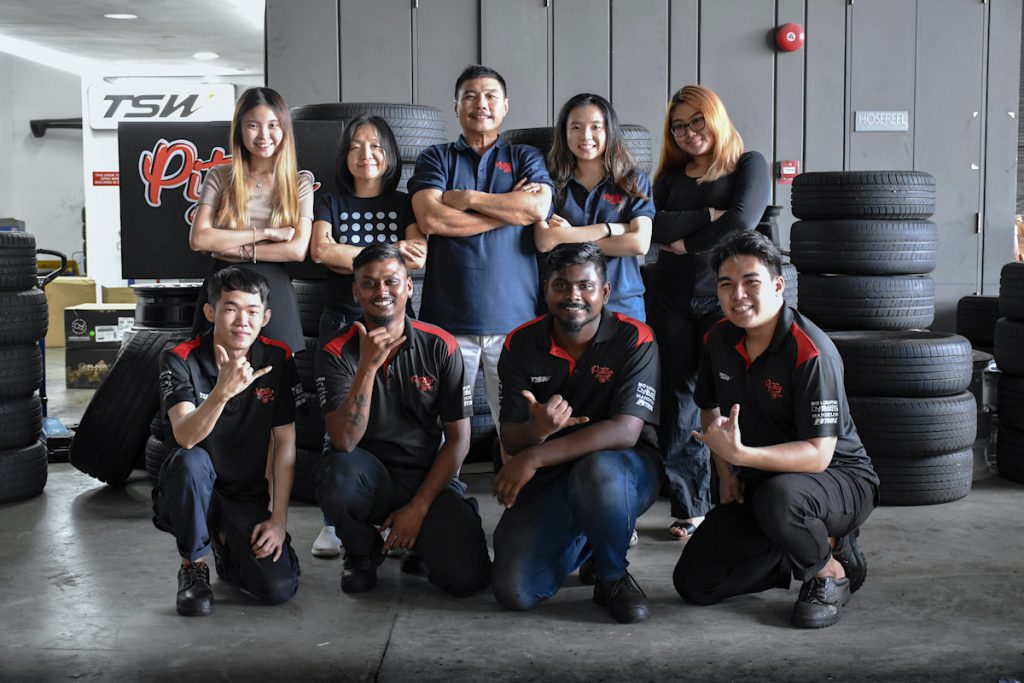 Cordillia had to navigate the resistance by ensuring open communication and addressing the concerns of her team members. She also had to make careful decisions regarding resource allocation to avoid wastefulness and minimise opportunity costs.
Despite the difficulties, Cordillia's unwavering commitment to progress and her ability to make strategic decisions were instrumental in successfully implementing the changes required for the business's rejuvenation.
Innovation has always been a crucial aspect of staying ahead in any industry. Cordillia firmly believes in creating value for customers and making competition irrelevant, rather than merely keeping up with the curve. She draws inspiration from the book Blue Ocean Strategy by W. Chan Kim and Renée Mauborgne, which emphasises the importance of "value innovation".
I'm playing a completely different game and looking at how I can innovate better, faster and smarter than everyone else. Although it's a dream to work on radical innovation products like the airless tyre Michelin is currently producing, at my current level of resources, I'm more focused on creating as many incremental innovations in my business as possible.

– Cordillia Tan, second-generation owner of Pitstop Tyres
She is dedicated to maximising value for Pitstop Tyres' clients, emphasising that value should not be mistaken for the cheapest prices, but rather the overall experience and long-term sustainability of the business.
Driving towards success
Pitstop Tyres has come a long way since its struggling days, with remarkable milestones indicating its growth and success.
Cordillia proudly shares that the company, which once consistently missed rental payments, now rents two shops — a workshop and a warehouse. This achievement serves as a testament to the tremendous progress made in just two years.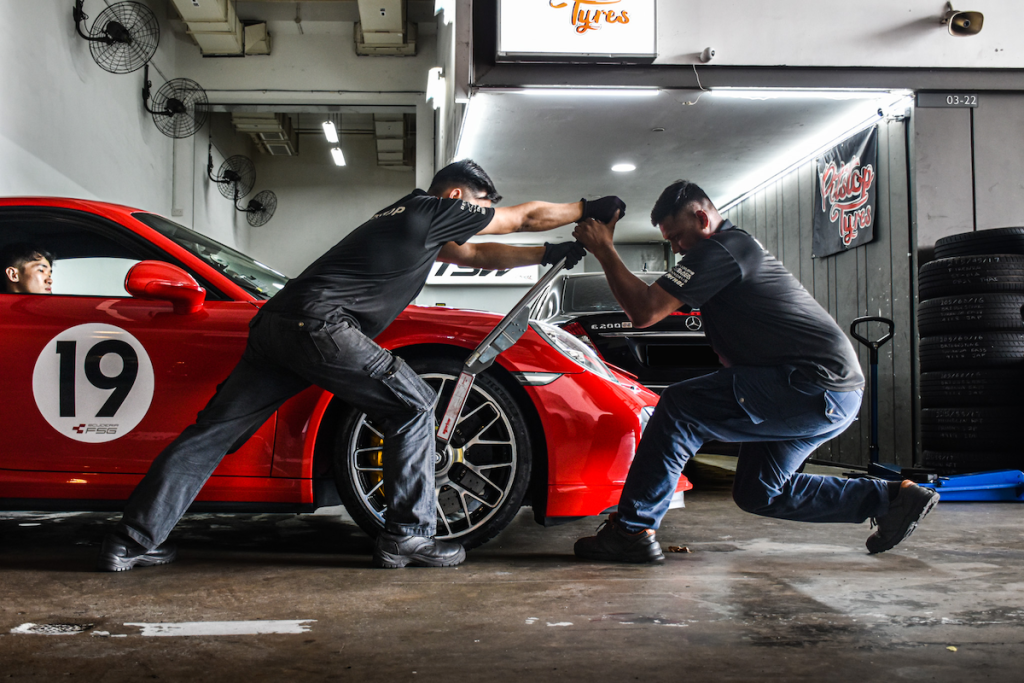 Looking ahead, Cordillia envisions a one-stop Pitstop Tyres building. "We don't necessarily have to become the biggest, but I want to be the go-to shop where people come for quality, reliability and honest service."
In the short term, the company plans to expand its services to become a full-service shop, offering comprehensive car maintenance work, rims and tyre replacements, aesthetic body upgrades, and more. This strategic expansion aligns with the vision of providing customers with a seamless and convenient automotive experience.
Summing up the interview, Cordillia expressed deep respect for her father, who managed to hold the company together during trying times. Witnessing her father's determination inspired her to step up and revive the collapsing company, learning that difficult circumstances can serve as catalysts for growth and strength.
When asked about any specific business advice her father imparted before handing over the reins, Cordillia recalls the wisdom of Grant Cardone: "Never reduce a target. Instead, increase actions."
Cordillia firmly believes that success lies not in lowering goals, but in intensifying efforts. She understands that the right actions, combined with unwavering determination, can help overcome any challenges that come their way.
Featured Image Credit: Pitstop Tyres